9 Best Tea Brand of 2021 in India
Best tea for Teea Enthusiasts and Tea Lover with health benefits. Gift Yourself a Healthy Morning
For many Indian people, Chai is the must need Drink. In India, the majority of people can not spend a day without a cup of tea and I am one of them. For me, the morning without tea is a sleepy morning. I also want a cup of tea whenever things are not good and I have lots of work to do. Tea stimulates my senses and refreshes me. If you are in the same category then you are in the right place.
For Indians Tea is an Entertaining and Refreshing Beverage. In the rainy season, tea became the comfort drink. When I served by crispy pakora and a cup of tea, my happiness cannot be confined to words. In Indian culture, there is a trend that guests are entertained as GOD. And the Guest is welcomed by offering tea.
India is the second-largest producer of the tea Most of the production takes place in West Bengal and Assam. In the Assam, Tea is the state drink. India Consumes 30% of Tea and it is the Highest consumption across the Globe. Indian uses tea as a morning tea/breakfast tea as well as evening drink, in the family get to gather in college reunion, refreshing drink for workaholic people, entertaining drink for gossip culture, even small business serve tea to their guests and visitors instead of alcoholic drink.
If you are looking for a good tea brand to welcome your 2021 you are at the right place because here in this article, I am going to describe you in-depth of various tea brands to help you to decide which one is best for you. And write in the comment which one you like and have ordered. I would be happy to know about your taste.
"A cup of tea would restore my Uniqueness."
1. VAHDAM - Organic Turmeric Tea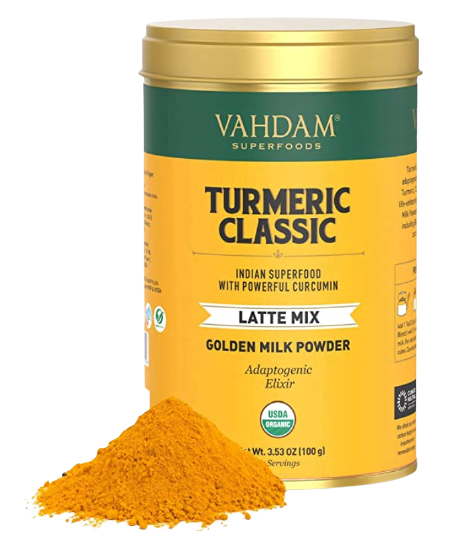 Our Organic Turmeric Classic latte mix contains Turmeric and Black pepper. Turmeric is an ancient superfood having medicinal value, used for the healing purpose for more than 4000 years in Ayurveda. To maximize the retention of Turmeric's active ingredient 'Curcumin' in the body, Black pepper is used which dramatically increases the absorption rate by 2000 times! It can be Brewed Hot or Iced.
This brand is Established in India by a 28-year-old entrepreneur, and they have certified Carbon-Neutral & a Plastic-Neutral brand.
They ensure to their customer that they will get the freshest cup of tea and also their farmers that they get a better price for their produce. And the good thing is their 1% of revenue is redirected towards the education of their tea growers' children.
And the most important thing every customer love that they will give you 100% MONEYBACK GUARANTEE. If you don't like tea, they will REFUND you 100% immediately without asking a single question.
2. Wagh Bakri Premium Leaf Tea
The people like me who consider the tea and as a mood booster and refreshing Drink it is the best Tea for them. It is made up from Indian Premium Tea Garden, and full of Goodness and Richness of Taste. This tea offers strong taste, deep colour and more cuppage.
This tea is made from handpicked tea leaves with the best quality from the selected quality garden.
This tea is selected and blended by tata tea experts.
Tata Tea Gold is made up of Assam tea leaves with a special 15% longleaf.
This longleaf, open up in boiling water and release a superior aroma.
Tata Tea Gold is full of rich flavours and irresistible aromas.
The motto of Tata Tea Gold is to inspire you to indulge in your heart's desire.
Premiers Assam tea is a perfect tea for every occasion. It is full of health benefits. Enjoy your quality time with rich in taste by savoury concoctions. Every Assam Tea is handmade and contains flavoured brews of masala chai, mango, saffron, apple, jasmine, ginger, cardamom, lemon, etc.
This tea contains organic ingredients with no preservatives, additives. It is the 100% Garden Fresh Assam tea.
Gift your loved once a refreshing morning with health benefits with every sip.
In this corona kaal you must need the supplements which boost your immunity. So, use the Tetley green tea which helps you to boost immunity.
It contains the lemon and honey. Lemons help in the regulation of metabolism and honey is an immunity booster.
Give a refreshing start to your day with Tetley green tea combination of lemon and honey.
6. Amazon Brand - Vedaka Gold Tea
This tea is made up of the tea leaves picked from the Assam and Darjiling.
Enjoy the strong and delightful taste of tea with every sip of Vedaka Gold.
7. Blue Tea Butterfly Pea Flower
This tea is those people who love their skin and hair. Ahh… I can do anything for my Hair. To dedicate my hair, I already have ordered this tea and let me know in the comment what about you?
It helps to nourish your hair follicles, helps in hair growth, prevents greying of hair and reduces hair fall. It is also full of antioxidants and has properties that reverse the damage caused to the skin by sugar molecules which causes skin aging.
This tea is also used to boost brain activity and reduces the anxiety.
I must say it provides the perfect health combo.
8. Kayos Immunity Booster Tea
These days it is too much important to maintain your immunity and here is another tea which helps you to maintain your immunity system.
It contains the natural ayurvedic ingredients such as Tulsi, amla, giloy, and ashwagandha with no preservatives and no added sugar.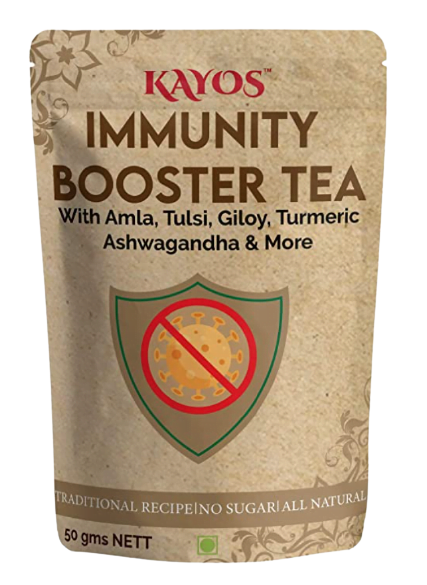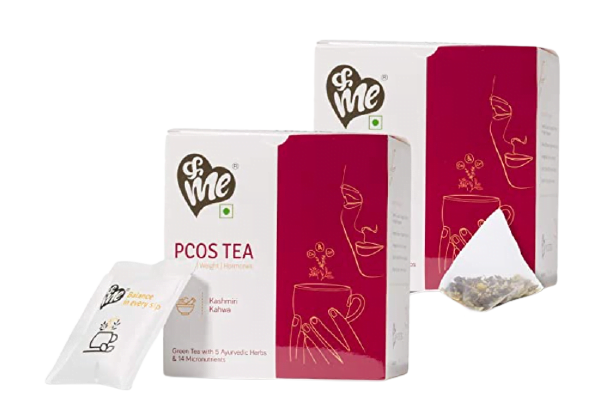 It is the unique organic herbal caffeine-free tea especially for women with PCOS.
It contains 5 Ayurvedic Herbs – Garcinia, Ashwagandha, Shatavari, Ashoka, Turmeric and 14 Vitamins and Minerals including Vitamin C, Vitamin B12, Vitamin D.
It benefits in Regular Periods, Acne Control, Hormonal Balance, Facial Hair Growth (Hirsutism), Scalp Hair Loss, Weight management, & Detox. Have 2 tea bags per day for at least 30 days, to notice visible benefits.
It is a chemical-free with no preservatives, no artificial colour/flavour, alcohol-free, 100% vegetarian.
Summary
Tea is the beverage that you can enjoy with your friends, your family, your colleagues and even in your me-time. You can enjoy your reading time, your entertainment time and your work time with the tea.
These days we all need to be healthier. We need to focus on our immunity. So, here I have described a variety of teas. With different health benefits. Choose wisely and order your tea. Gift yourself good health instead of alcoholic beverages.
Comment below that what is your favourite activity with tea and which brand you choose and why?